Happy New Moon, Perverts!
This was my first drawing from this deck and it made me fucking cackle. Introducing, Cali Reign - VIRGIN SERVANT PROSTITUTE.
It's 5:30AM during a new moon - a perfect time to begin blogging on various things related to sex magic.
I've been putting off blogging for a while. It seemed like another task to worry about that wasn't really a priority amongst a whole list of schemes currently in production in my content cave. But now I can't stop thinking about the 100000+ shennanigans I want to write about before my new moon bath!
What changed? TLDR I think blogging is going to be the missing link I've been searching for when it comes to distributing, creating, and talking about my content, pornographic and otherwise.
I knew that so long as we were working with eroticism and sexual content, we'd have to do some unnecessary ig censorship, and I knew that the internet was a weird place for sex workers, but even I wasn't prepared for just how weird and surprising it was all going to be.
To list but a few short examples that come to mind immediately:
I never expected this video to get disabled from PornHub [click here for vimeo link] , especially considering how similar it is in style and content to this video.  I'm really mad at them about it.
Youtube sent me a very *VERY* stern email and deleted my account after I tried putting my music up on their platform saying that I hadn't listened to their previous warning regarding this video, where I had violated their terms of service. [Looks like the Women of Sex Tech experienced something similar. VP SXNoir talks about it beautifully here in this piece: "I think this indicates that there will always be a moral judgment on these platforms... When cis, heterosexual white men create these digital worlds, you see these moral judgments leading to more discrimination for people who are brown, black and queer..." - SXNoir in this article in Vice by Samantha Cole].
Pornhub also took down this video, which at the moment can now be found only on my OnlyFans page since there's too much pornography in it for Vimeo. [So if you're a subscriber 1) thank u Hernog Jensen I LIVE FOR YOU and 2) feel free to steal, spread, and pirate that video as much as you want onto any site that'll take it, give your friends your code, w/e]. 
And shadow ban after shadow ban means I don't show up in even my friends' feeds nowadays. You really have to work hard to view and follow a sex worker's content. For some of us sex workers, trying to navigate the chaos of where the lines are drawn and why, knowing that policies are inconsistent, vague, and can change at any given moment, it's hard to stay motivated and spend time, energy, and resources into growing an audience and business that literally may be erased tomorrow. [I remember seeing another great video on this from the Women of Sex Tech conference circulating the internet recently. I don't remember exactly where I saw it, but I'll come back and edit it in if one of us finds it].
So I thought blogging would give me the space to be not exactly free of censorship, but not as limited by it either like on all other socials and platforms I've been on.
However, don't expect sex worker doom and gloom all the time. That isn't the intention of this blog. And there's already enough of that in this world. Be prepared for just as much silliness, musings, celebrations and salty sex worker cat memes.
LIKE THIS!
So last night, Celest Sinclair sent BeardTok and me a link to this kickass table reading of a project called, "BLACKLIGHT" - described on their brand new Twitter and Vimeo pages as a "dark comedy based on the life of a soft spoken goth Black sex worker + socialist organizer in New Orleans ©"
(Srsly tho how fucking amazing and hot is this promo art omfg!)
So full disclosure, I made a very silly mistake that I'm actually going to recommend you do as well bc it turned out to be a pretty epic and accidentally cool way to watch the pilot table read.
I like listening to meditation-style binaural beats to help me focus while I'm writing and/or doing other work stuff. When I started watching the pilot, my headphones were still playing binaural beats that I was listening to earlier [this playlist specifically], and it turned out to be epic asf!! The opening scenes in particular are killer, and I think the binaural beats highlighted a really fun way to enter this creepy, eerie, sexy, epic, dark, tragic, alluring blacklit-glowing goth underworld of a squad of heartthrobs on Bourbon St.
Anyway, we had a fucking blast watching this pilot/digital table read and I can't wait to follow every bit of this project. Seeing a kickass story like this one, both created by and created for sex workers was truly an incredible way to spend the early morning.
Also, amidst a great fucking company of performers, Punkie Johnson is absolutely hypnotic reading stage directions and exposition. I know that might be bizarre to read about how a performer reading stage directions is absolutely mesmerizing, but when you watch the pilot, you'll see what I mean. Johnson opens the pilot with the very first line and whoever(s) contributed to that decision should get a raise and be hired for everything immediately.
Thanks for being here, friends! Let's close out with some comics and readings with Fezziwig!
This issue features readings for Cali, Pearl, and Naffy.
(Special magickz appearance by Jonathan Belle).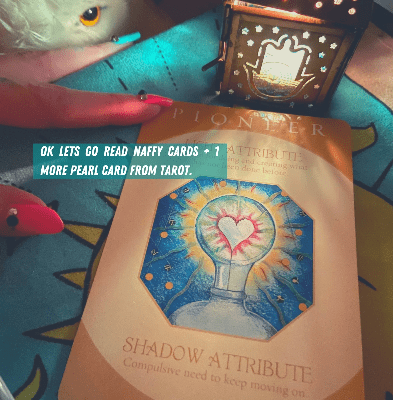 And, as always, Defund the Police!